Johanna's guestbook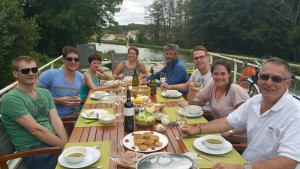 A selection of comments written in our Guestbook
or received via e-mail.
This was our best family vacation ever! Thank you!
Keith, Hollywood, L.A., USA, August 2017
A many thankyou's
for the beautiful boat,
for Patsie's food and knowledge of
for Patsie's exercice advise
and most of all for providing a great place for Dick's 80th birthday and Susie's ?? Birthday
also for your companionship + camaraderie.
This has been perfect!
Cindy, Alabama, USA, August 2017
What a terrific trip, beautifully planned and conducted by warm, professional hosts. Outstanding in all aspects and thank you for the great cuisine.
Fred & Lisa, San Francisco, USA, July 2017
A wonderful voyage with gratious hosts, delicious meals and exceptional service troughout.
John and Grethen, San Francisco, USA, July 2017
It's not about the destination, it's all about the journey!
Thanks for the delicious, beautiful, inspiring + peaceful adventure!
Love
Grethen, San Francisco, USA, July 2017
What a superb trip. Thank you all for making this such a memorable - beautiful vacation!
Bob & Anne, San Francisco, USA, July 2017
PS: Patsie's delicious cuisine, the fabulous Johanna, a very well done ship and all the friendly assistance will be permanent memories!
Barge was wonderful!! The crew was spectacular, and we all said we would go with them on another (different area) cruise. The Johanna was very ship shape and comfortable. We found the A/C in the staterooms very nice. Patsie was a wonderful cook!! Best food on the trip! Breakfast, then cruise in the morning and tie up around lunch. Lunch on board then the van would meet us to take us sightseeing. Back to the boat for a little rest, cocktails and dinner. Very relaxing way to travel. Nice too, because, except for Epernay, the area is not overrun with tourists.
Bob F. by email to The Bargelady, July 2017

Dag Patsie & Kris
Bedankt voor het receptje hoor! Zal dit zeker uit proberen! (ik kook graag) We hebben echt genoten bij B&B Johanna! We vertellen onze verhalen in geuren en kleuren (net zoals Kris) We duimen voor jullie toekomst en hopelijk horen we nog iets van jullie, want jullie waren in zo een korte tijd onze vrienden! Groetjes.
Eddy & Linda, Belgium, Sept 2016 B&B
Just a fantastic time! - and made all the more pleasurable by your great approach and companionship. Thank you so much for a great time.
Russell and Julie, Australia, May 2016 Bruges-Paris
Facebook photos
This has been the most relaxing and enjoyable time. The barge is amazing. The meals and wine were absolutely delicious and the tours very informative. It was great to share your company the whole time. A very memorable holiday!
Gary and Meredith, Australia, May 2016 Bruges-Paris
Merci encore pour votre accueil et votre sympathie lors de notre passage ce week-end. Ce fut un enchantement de découvrir votre péniche admirablement bien décorée et dans laquelle nous nous sommes très bien sentis. Un concept génial qui nous a permis de passer un admirable cap pour Nicolas. Au plaisir de vous revoir, en Belgique ou lors d'un voyage au fil de l'eau en France.
Free translation: Thank you again for your welcome and sympathy during our visit this weekend. It was a delight to discover your barge so beautifully decorated and where we felt very well. A brilliant concept that allowed us to spend a wonderful birthday for Nicolas. Hope to see you in Belgium or while traveling on the canals in France.
Florence M. Breine-l'Alleud, Belgium, Jan. 2016
Dear Patsie and Kris,
Thank you so much for having us this week aboard the beautiful Johanna! We had a great week with lots of laughter, wine, amazing food, and great company. Looking foiward to seeing you again in the future!
Sonia, Trevor, Brielle, Willem, Victoria, Australia, June 2015
Van de talloze reizen die ik in mijn leven reeds heb gemaakt, was deze cruise van Brugge naar Parijs de meest rustgevende en ontspannende ooit.
Free translation: Of the countless voyages I made in my lifetime, this cruise from Bruges to Paris was by far the most relaxing one.
Lucienne D. Brugge, België, Augustus 2014
What can we say other than "this was the PERFECT trip"! We enjoyed ourselves tremendously, from the first to the last. The Johanna is a perfect barge boat with every detail well thought out. The meals were five star. We felt completely comfortable and at home this last week aboard the Johanna and will always have great, fond memories of our trip and both of you (and Yara!). Thank you so much,
Melanie and Chris, New Orleans, LA USA, May 2014
Thank you both for being such amazing hosts! I was amazed how modernly maritime the Johanna is furnished! The rooms had everything I needed to feel at home. The food was phenomenal! Delicious 3-course cuisine comprised of the freshest local ingredients, crafted by a par of world-class chefs. This was my first time ever in Europe, and I'm convinced there is no better way to tour. Will be looking to you both for future adventures into other countries. Thanks for the memories.
Kyler Kozacek (and family), Ridgefield, WA USA, May 2014
Nice hosts. Patsie and Kris are the greatest. One highlight for me was helming the ship. The Strépy locks were awsome. Thanks for your hospitality, "the best". Please come and visit us in Gosport.
George and Maureen, Gosport, Hampshire, UK. Leeward House B&B, March 2014
We had a FAB-U-LOUS time aboard the Johanna. The Strépy Locks had to be the Highlight for us. You both looked after us so well. Thank You.
David and Denise, England, March 2014
What a wonderful week we spent on your beautiful boat. The food was super and we do enjoy spending time with you. Thank you so much. Thanks to Johanna too!
Genie Doyle, Cloverdale, CA, Aug 2013
Thank you for a perfect voyage of discovery of West Flanders. Forever in our minds will be the magic of floating down the canals and watching the sun-dappled countryside. Your boat is beautiful, the food assumptious and the company delightful. Best of luck!
Paul and Maggie Masta, California, Aug 2013