Hotel ship Johanna
Your cruise accommodation.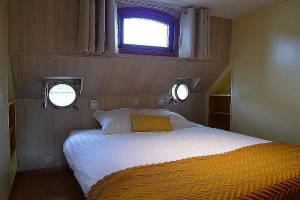 However beautiful our canal barge cruise routes may be, you are of course also looking for an accommodation with rest, relaxation and enjoyment. That is why we have chosen the Johanna as our trusted mean of transportation. She is one of the largest barges that are able to cruise almost every Belgian and French waterway and has ample sleeping space for up to 6 passengers.

When returning from one of the excursions to inspiring locations such as historical city centers, museums or restaurants, you will of course be looking for comfortable sleeping quarters. That is why each of the three cabins is equipped with either a queen size or twin beds. To provide you with all the necessary comforts, each cabin has its own en suite bathroom, complete with shower, washing basin and toilet. Of course we also installed central heating and individual air conditioning per room. One window and two opening portholes ensure a pleasant light filled ambiance.
Common spaces
If you feel like spending some time with the members of your party, the Johanna has every possibility to do so. The living room with sitting area has ample picture windows overlooking the water and the surrounding landscape for all to observe and enjoy the beautiful views. A glass dome brings a maximum of light inside.
 Our 34 sq m sundeck is equipped with relaxing deck chairs that allow you to bask in the warmth of the sun while admiring the surrounding landscape.For those who prefer the cool of the shadow, we 'll cover a part of the deck with a canopy. Table and chairs invite you to al fresco dining or enjoying an afternoon cup of thee. The flowers and plants bring the beauty of nature close to you.
Your crew
Kris began his career at sea as a radio officer and later as a mechanic. During this period he obtained his helmsmen license. After his marriage he found work ashore in computer networking and eventually became ICT network eng. of an international company. In 2011 he quit the stressy ICT world and started looking for a different, more satisfactory way of life. After more than three years of preparation and renovation work, Barge Johanna was ready to begin a new life as a hotel ship.
As a teen, Patsie was a high level olympic gymnast. She earned her master's degree in physical education and became lecturer P.E., dance and expressive movement at an Antwerp Polytechnic University. Cooking is her second hobby, where she is always looking for new and exciting recipes adding a fresh, personal touch. When she met Kris, she liked the idea of a new challenge and decided to turn her hobby into her new profession.