Relaxing barge cruises in France.
Your tailor-made holidays...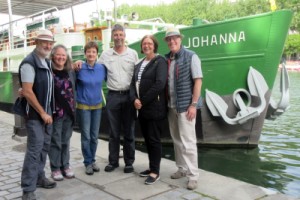 Escape from stress.
As owners of Johanna, Patsie and I have not regretted it yet for a second to have quit our hectic work in higher education and ICT for a life on the water. We love to share this experience with our guests.
Explore the French countryside.
In rural France, nature changes every week. Be it the crops in the fields, the nesting birds or the trees under which we sail, on every cruise there is new beauty to discover.
A bit of French history.
Our cruising area has a rich history. There are not only many castles and cathedrals dating back to the 10th century. More recent activities also marked this country, such as World War 1, the famous Impressionist painters or modern art musea.
Enjoy life to the fullest.
Then of course there is the French cuisine, delicious wines, sparkling Champagne, hundreds of cheeses to choose from... Combine this with the finest Belgian chocolats, maybe even some Belgian beers. Your captain and cook are Belgians after all, offering you the best of both countries!

  Your holidays in a nutshell
Discover the beauty of France on a relaxing barge cruise aboard hotelship Johanna. Explore the Champagne or Loire regions the slow way. Enter Paris as you never did before. Enjoy your holiday stay on the recently beautifully converted hotelship Johanna offering airy accommodation for up to 6 guests. Sailing on board Johanna is experiencing peace and tranquility as you pass trough the quiet countryside or visit picturesque villages and historic towns.
While sitting on the sundeck, sipping some of the tastiest Belgian beers or with a good glass of French wine, you can enjoy the beauty of nature. Watch the water gliding by, admire the most beautiful landscapes you've ever seen or study the endearing ways of the local wildlife. Leisure and relaxation are at their best on our barge cruises. Time stands still while your hotel ship slowly cruises to it's destination of the day. There our driver with minivan awaits you for a personalized excursion. The more daring guests can explore the region on bicycle or take a walk along the towpath.