more bubbles…

Once you discover champagne, there is no turning back. This is part 2 of our story, the story of 2 Belgians that bought a ship, started cruising the champagne area and fell in love with it. As I told you in part 1: "Discovering Champagne", we already learned that champagne is not just bubbles served at festive occasions, it can also be paired with food. Off we went into an exiting exploration of this heavenly drink.
 
 
 

§ 3, exploring

At Dom Caudron, in the middle of the Marne Valley, Kasia and Victor told us they use mainly Meunier grapes. This is one of the 3 grapes used for champagne production. The other 2 grape varieties are Chardonnay and Pinot Noir. So what are the differences? Time to explore… and taste!
Where best to start than with our friends at Saint Gybryen? They are located in Cramant, south of Epernay, right in the middle of the "Cotes des Blancs". In this area, most vineyards grow Chardonnay, the only white grape of the 3 varieties. The Chardonnay vines love a chalky, rather poor soil to grow on. They produce a fresh tasting wine. Perfect to cut through the fat of a smooth cheese such as Camembert or a cheesy gratin.



Chardonnay © Champagne Didier Mirault
Pinot Noir is found mainly in the Reims Mountains. This protected regional park is covered with woods which give a fertile soil, perfect for the Pinot Noir vineyards on its hillsides. It's no surprise then that the wines they produce have a more full body. While the Pinot Noir has a dark skin, it gives a white juice. A champagne made from 100% Pinot Noir can thus be called a "Blanc de Noir". You can try to combine it with more weightier dishes like lobster or duck.


Pinot Noir © Champagne Didier Mirault
Pinot Meunier, or just called Meunier, is typical for the Marne Valley. The Marne area is known not only for its vineyards, but also for the large grainfields bordering the river. Before the river was canalised, it flooded the planes regularly, leaving a very fertile silt deposit. Further up the slopes, the more permeable limestone under a layer of sand is perfect for the Pinot Meunier vines. They produce a rather fruity wine that can be served with roasted chicken or why not with turkey on Thanksgiving.

Pinot Meunier © Champagne Didier Mirault
§ 4, tasting

It's very well to know all of this, but how does it taste? Off we went with some Belgian friends to the independent winery of Alain Navarre at Passy-sur-Marne. His wife Joëlle, 3rd generation of wine growers, received us with open arms.

We started with a tasting of the Brut Tradition, made of the 3 grapes. This fresh and fruity champagne is all intended to be served as an aperitif, during a reception, a cocktail, or an exhibition opening, etc… On we went to taste their best selling wine, the Brut Prestige. This 50/50 Pinot Noir and Chardonnay wine has a great aromatic complexity. This champagne can be served as an aperitif and at the table on poultry dishes with citrus fruits or dried fruit, also with a fish in lemon sauce. No wonder it was selected by Amal to be served during her wedding with George Clooney.
Our third tasting was the Cuvée Sybaris. This is a Haute Couture Champagne of 40/60 Pinot Noir and Chardonnay.  The alcoholic fermentation, vinification and storage are done exclusively in oak barrels, giving this champagne a very smooth and refined taste. Jan (foto below) normally does not like the more acid taste of Chardonnay, but was pleasantly surprised by this new discovery. Just see how passionate he is about his new tasting experience.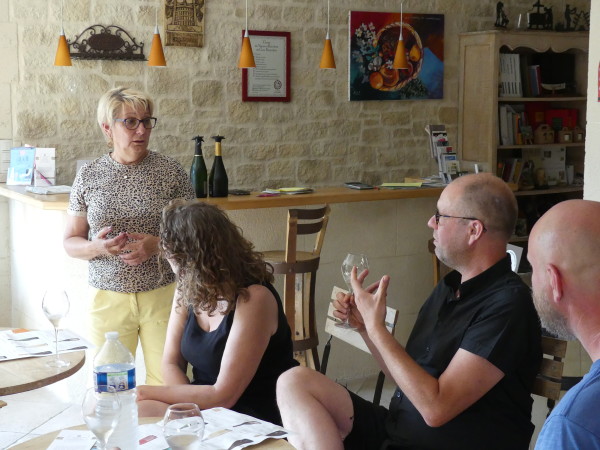 Last but not least came the "Génération3". Every year, the grapes from the best plots are selected to create a special champagne, named after the 3rd generation of winegrowers in the family and presented in a unique bottle. Last year, it contained 3 grape varieties, but this year it was a "Blanc de noir" of 30/70 Meunier and Pinot Noir. This is realy a champagne to serve with meals such as a tagine of lamb with lychees, fruit meats, pan-fried foie gras and mango accompanied by a brioche with spices.
After all these tastings, it was difficult to refuse a last glas of their Cuvée L'UNIK, limited edition of 1500 bottles per year. Made from the finest grapes from their Chardonnay plots, this Blanc de blanc is a distinguished Champagne, a delicate and refined wine. I won't mention how many boxes of champagne our friends bought. Fortunately our driver refrained from drinking so we all returned happily to the barge where Patsie had prepared a delicious meal, served with selected champagnes, of course!


Next  time, I 'll tell you some other nice things to know about champagne…